sacramento county community incubator lead- RAACD
The Black Child Legacy Campaign is the community-driven movement established by the Steering Committee on Reduction of African American Child Deaths, which is working to reduce deaths of African American children by 10% to 20% by 2020 in Sacramento County. Through Liberty Towers Church, Impact Sac leads efforts in North Highlands and Foothill Farms as well as surrounding communities for the Black Child Legacy Campaign.
Participatory action REsearch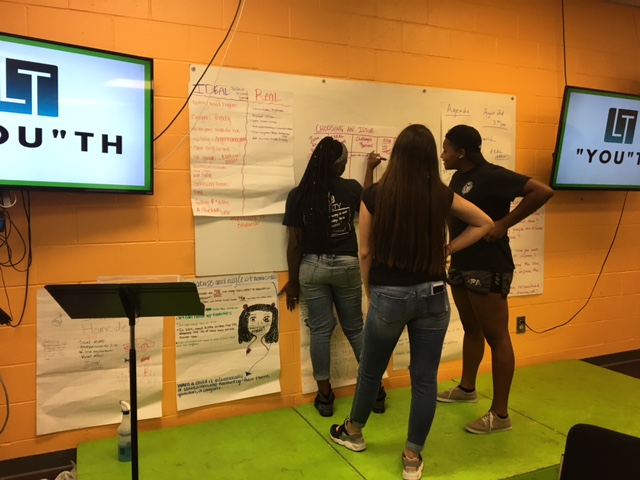 Empower youth by educating them on a topic, becoming informed by their opinion, and providing tools for them to execute their solutions.
Youth Leaders surveyed 1,100 students at Foothill High School as part of a research project to end violence in North Highlands and Foothill Farms.
Youth Leaders were educated on the subject of violence and third party homicide.

Decided that a survey was the best way to gather the information needed.

Developed research questions.

Identified a pool of young people to be surveyed.

Scheduled meetings with the High School Principal to pitch their idea.

Garnered the support of the High School Counselor to distribute through English classes.

Distributed the surveys.

Collected surveys and sorted answers.

Developed recommendations based on answers.

Prepared a detailed written report. (Available upon request)

Presented their findings to the Sacramento County Reduction of African American Child Death Steering Committee.

Social youth justice
Student Voices
Policy Makers select a key issue area affecting students.

Local students participate as experts on the key issue area to inform policy makers.

Selected key leaders and policy makers commit to being an Influential Listener and are recognized as such.

Influential Listener Panel gives adult allies an opportunity to explain their power and why youth are the experts on particular key issue area.
Thoughtful table discussions are facilitated by Impact Sac partners allowing Influential Listeners the unique opportunity to listen and be informed by student voices.
Neighborhood change team
Students made a commitment to strengthen families by raising awareness through a "Ground Truth" project.
They studied child abuse and neglect.

Developed a public awareness campaign called "Chalk Wall".

Researched materials and prepared a budget.

Generated two questions to present to the community that would inform stakeholders.

Created two portable chalk walls.

Students solicit public places to "Ground Truth" (Take the wall for the community to participate).

Impact Sac uses the data collected to inform decisions and advocacy priorities.
Kitchen Table Talks
Kitchen Table Talks invites a multi-generational group of ladies to come together around a kitchen table for facilitated "girl talk". Ladies first prepare a light meal together and then enjoy dinner while the conversation is happening. Impact Sac partnered with Goals for Women to receive training and development to implement the program in it's entirety. Kitchen Table Talks brought about healing, laughter, learning, and much more. The project should run for 6-8 weeks and is designed to help women come together and build relationships that last well beyond the life of the program. Each six-eight week session should be customized to fit the demographic of the group. Kitchen Table Talks can be hosted in a private home or semi-private setting. Kitchen Table Talks can be hosted multi-table for large groups as well as one table for intimate groups with more serious issues. Impact Sac has hosted four sessions of Kitchen Table Talks and all led to meaningful change in the lives of the many women who have participated!